Our rental equipment will help make your next project faster and easier.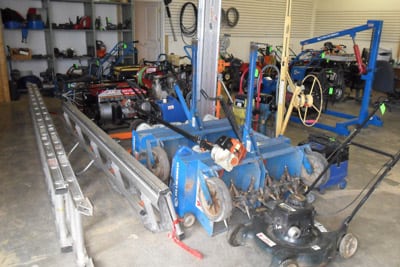 There is something very gratifying in finishing a job that you've completed yourself. This is one of the reasons that do-it-yourself projects found on websites such as Pinterest and YouTube have become popular in recent years. However, many people become frustrated when trying to take on these projects, because they don't have the proper equipment. That's where our team at Eagle Rentals comes in. We are your problem solvers when you are trying to complete a project in Wilmington, North Carolina.
Here at Eagle Rentals, we provide you with the rental equipment you need to complete your project, whether you are doing construction, painting, gardening, welding, or working on a home renovation project. With the proper equipment, not only will you feel more capable of accomplishing your projects, you'll also be able to get the project done in a much more efficient manner. Many tools are specialized or large and impractical for the average person to own, which is why we make them available for you to rent at a fair and affordable price.
4 DIY Jobs That are Made Easier with Our Rental Equipment
Here at Eagle Rentals, we love giving people the proper tools to get their projects done right! Whether you have a major project coming up or something that will only take a day or two, our rental equipment is a great choice for all kinds of projects. With so many great and informative websites out there, more people than ever have the knowledge necessary to get started on home projects- all they need are the right tools! That is where our rental equipment comes in. Here are a few projects that can be made easier by our rental equipment.
Landscaping Work. Whether you have some light landscaping to be done or are starting with a blank slate, our rental equipment will save you a lot of heavy lifting! We have skid steers for grading and lifting, concrete mixers to pour a foundation for that she-shed you've been wanting, and plenty of backhoes and excavators for moving dirt.
Painting. Interior or exterior, our painting equipment rentals will make this job less of a chore. We have scaffolding and aerial lifts to get you up safely where you need to go as well as pressure washers for exterior paint prep and air compressors for speedy paint work.
Changing a Light Fixture. Light fixtures date a house and are an easy change- with the right equipment. Instead of precariously balancing on a ladder with a heavy fixture, our aerial lifts, Niftylifts, or scaffolding can make the job easier and much safer!
Gardening. If your garden is growing more weeds than anything else, let us help you with the right garden equipment rentals. Lawn mowers, aerators, tillers and trenchers can whip your garden into shape in no time!
For more information about the right rental equipment for your next household DIY, please call us today!
Another necessity for completing your projects is making sure your equipment is in good repair. Each time someone comes to us for rental equipment, we thoroughly test, inspect, and service each item to make certain it will work properly for you. With twenty-five years in this business, we know how to properly care for all of our tools and machinery, and we understand which equipment each type of project will likely require. Our job is to make sure the tools and machines we provide make your projects faster and easier in the way they were designed to do. Check out our rental equipment site or give us a call to see how we can help you with your next project.
---
At Eagle Rentals, we offer affordable rental equipment to residents of Mocksville, Troutman, Wilmington, Denver, Cornelius, Hickory, Salisbury, Statesville, and Mooresville, North Carolina.
Similar Services We Offer: