Our team can find you the right compressor rentals for your needs!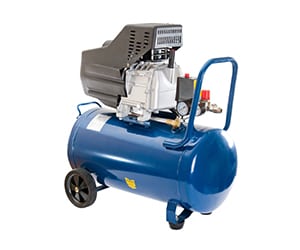 There are many tools out there that have limited applications, but compressors are the complete opposite! One of the most versatile and useable pieces of equipment out there, air compressors enable you to remove a lot of the elbow grease and grueling work from a variety of different projects. Here at Eagle Rentals, we want to make sure that your next project has all the tools you need to complete it quickly and effectively, so we have acquired many different compressors and attachments to ensure the success of your next project.
We have both large- and small-scale air compressors to best suit your next project. Whether you are looking to re-shingle your roof or want to install hardwood flooring in your home, there are all kinds of uses for compressor rentals. In addition to our compressors, we also offer attachments that can work in conjunction with the right compressor, such as a pneumatic finish nailer, roofing coil, framing nailer, jackhammers and even a large 50' hose to ensure enough length for your project. If you need help selecting your compressor rentals, we are happy to assist you in the area of Wilmington, North Carolina for your next project.
If you are looking to make your next project easier, more efficient, and ensure even results, then we have the compressor rentals that can help you get the job done right. To learn more about our compressor rentals or to ask our opinion on the best equipment for your next job, give us a call today!
---
At Eagle Rentals, we offer affordable compressor rentals to residents of Mocksville, Troutman, Wilmington, Denver, Cornelius, Statesville, and Mooresville, North Carolina.