Eagle Rentals is a locally owned and operated construction rental equipment company that has been serving the Statesville, Troutman, and Mooresville, North Carolina areas since 1995.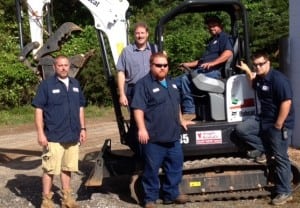 Specializing in a multitude of equipment rentals, Eagle Rentals has everything you need to get tough jobs done the right way! We pride ourselves on being an active part of the community. We support local businesses and schools, and our owners proudly work at local shops. We are a Statesville family just like yours!
Included in our wide range of tool rentals are Bobcat rentals, aerial lifts, backhoes, excavators, compressors, loaders, trenchers, heaters, lawn and garden equipment, pressure washing, fans, masonry, and more. We staff highly qualified technicians who can assist you in selecting the right equipment for your project and ensure that all of our machinery is in great working order prior to each and every rental. We know that if you have a construction project, we have a tool that will make it faster and easier — that's our job!
Our Statesville (704-872-3621) and Troutman (704-528-1799) locations are open Monday to Thursday from 7:30am to 5pm, Friday from 7:30am to 5:30pm, and Saturday is closed. We accept all major credit cards for your convenience. Give us a call or drop by today to see how we can help you complete your next big project. At Eagle Rentals, we're your construction rental equipment problem solvers!
There are many reasons to rent the tools you need instead of buy them. If you are a determined do-it-yourselfer who likes to take on large projects, buying large equipment such as a skid steer or a stump grinder just isn't something you can easily recoup the cost of in the future. However, with equipment rental companies making large machinery more accessible to the general public, there is no reason why the average homeowner can't take on larger-scale projects such as landscaping or even digging your own swimming pool!
---
Eagle Rentals offers a wide range of high-quality and affordable rental equipment in Statesville, Troutman and Mooresville, North Carolina!