At Eagle Rentals in Statesville, North Carolina, we have a wide variety of machine rentals available to help you complete your next project, no matter the size.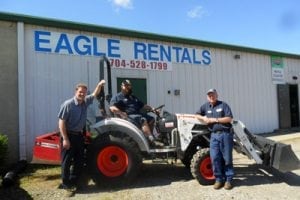 Machine Rentals – If you are looking for construction machinery, save money and time by renting the tools you need for the duration of the project. You can avoid costly maintenance and repair fees by allowing someone else to worry about that, and instead just rent tools that are ready to use as soon as you receive them.
At Eagle Rentals, we offer all types of construction tools and machine rentals. These include aerial lifts, air tools, backhoes, bobcat loaders, compactors, compressors, concrete tools, excavators, fans, floor care machines, generators, heaters, lawn & garden tools, lighting equipment, masonry, nailers, painting tools, pressure washers, trenchers, skid steer loaders, and welders. Check out our equipment rentals page for a full list of machine rentals we offer. We have equipment from the top brands in the construction industry, and we guarantee customer satisfaction. Eagle Rentals offers effective solutions to your machine rental problems and concerns.
What Projects Do You Have in Mind That Machine Rentals Can Speed Along?
At Eagle Rentals, we know that one of the main reasons why DIYers turn to us for machine rentals is to save time completing their project. It is all well and good to use a weekend or two to make an improvement, but when it goes beyond that because you don't have the right machines for the job, it can become far less exciting and could end up never being completely finished.
If you have a list of projects you haven't even started because they feel intimidating, yet you don't want to hire someone, we recommend learning about the many machine rentals we have to offer. It might surprise you how often we've seen a DIYer go from puzzlement to amazement at how to not only get a project completed, but also get it done faster than they thought.
Perhaps you've been wanting to paint your house, but you just don't want to put a month of weekends into the task by using a traditional paintbrush method. Consider machine rentals! We have pressure washers to prep the surface, painting tools to speed along the paint application, and aerial lifts so you can easily reach the second story.
That is just one situation in which machine rentals can save the day (or several weekends!) so you can spend more time with your family. Contact us today with your project list, and we'll help you determine which machine rentals you need to tick those items off your list before you know it.
Whether you are working on a project around your home or are with a commercial construction company, machine rentals can save you a lot of time and money. Eagle Rentals takes pride in being a member of the Statesville & Mooresville, North Carolina community, with owners who live locally and are happy to talk to customers and answer questions. The goal of our machine rental services is to make sure you feel comfortable with the equipment and that it will make your job easier. Even if you are a first-time do-it-yourselfer, our experienced and qualified technicians can help you understand what function each tool performs, what safety precautions need to be followed, and which machine rentals will be the perfect fit for your project, no matter how large or small.
---
At Eagle Rentals, we offer affordable machine rentals to residents of Mocksville, Troutman, Wilmington, Denver, Cornelius, Hickory, Salisbury, Statesville, and Mooresville, North Carolina.