How to rent equipment from Eagle Rentals in Statesville & Troutman, NC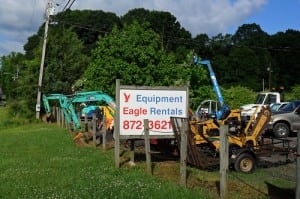 A valid driver's license is required at the time of rental. For first time renters, or out of town renters, payment with a credit card or debit card is required at the time of rental, unless a business billing account has been established in advance.
Reservations are not required but are highly recommended. All it takes is a phone call to the location nearest you.
Hours of operation 7:30am to 5:00pm Monday thru Friday, 7:30 – 12:00 Saturday
One day charge from Saturday morning, due back 7:30 – 8:00 Monday morning.
​Units with hour meters include 8 hours run time with one day rate. If you exceed 8 hours, each additional hour is charged at 1/8 day rate.
No equipment licensing is required by us for rental. With some machines, on some jobsites, licensing or certification may be required by the contractors, management, or OSHA, however, we leave that up to you to determine. We offer copies of safety and operator's manuals upon request, as well as show you the basics and give you some pointers. Please feel free to browse the manufacturers links on the equipment page, in many cases you can access operator and safety manuals on-line ahead of time.
On paint sprayers, and a very few select other items, a cleaning deposit may be required.
Many people shy away from that ultimate do-it-yourself project because they worry they don't have the right tools. Also, unless they are confident in their future as a contractor, it is likely they will have little need of these expensive tools after the project is complete.  A smarter and easier way to save money is to rent the tools and machines you need from a professional company such as Eagle Rentals in Statesville and Troutman, North Carolina.

Here are a few more basic tips concerning tool rentals that will keep your costs low:
Only rent tools when you need them. Many people rent tools or machines before they are ready to start, racking up unnecessary costs.
Make sure you're renting the right tool for the job. Ask your expert tool renter whether the tool you want is actually the tool you need. It may turn out that there is a better tool for the job, saving you time and money.
Ensure you know how to operate the tool. Every tool has its own set of tips and tricks. Ask an employee of the construction rental equipment company about how your rental works if you are unsure before you leave the store.
If you need to rent high-quality tools from an expert service, come see us at Eagle Rentals today! Proudly locally owned and operated since 1995, we strive to be your problem solvers for any DIY construction project. Renting everything from skid steers, Bobcats, stump grinders, and aerial lifts to pressure washing gear and lawn & garden equipment, we are sure to have what you need to get the job done!
---
Eagle Rentals offers a wide range of high-quality and affordable tool & equipment rentals in Statesville, Troutman and Mooresville, North Carolina!