Our air tool rentals can simplify your project, saving you needed time and energy.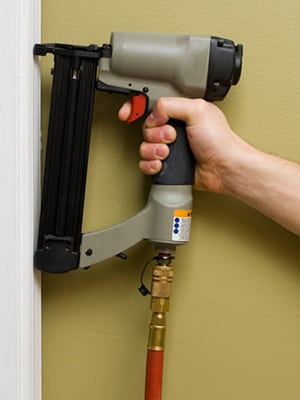 In our modern world, many tasks have been made easier and faster with the invention of new tools and equipment. This is certainly true for construction projects. Thanks to these advances in technology, there are many construction and home improvement projects that people are not only capable of doing themselves but can now be done much faster and easier. However, owning all of these useful, time-saving tools can be very expensive. That's why our team at Eagle Rentals offer a wide variety of tools and equipment including air tool rentals that can provide you with the assistance you need to take on a project without breaking the bank.
If you've ever used air tools, such as an air compression nailer, you know how much more efficient they are compared to old-fashioned, man-powered tools. Once you understand how to operate them effectively, they can simplify your task and save you a lot of time and energy. Our friendly and knowledgeable team can help teach you how to use the equipment properly, so that you're ready to get work on your next project. We also thoroughly inspect and service our tools and machines before each rental.
Here at Eagle Rentals we provide air tool rentals to people and businesses in Wilmington, North Carolina. We are a family owned business which means we live and work within the same community you do. We are passionate about providing needed solutions to the people we see and interact with each day. When you need air tool rentals or other equipment rentals, come to us at Eagle Rentals.
---
At Eagle Rentals, we offer affordable air tool rentals to residents of Mocksville, Troutman, Wilmington, Denver, Cornelius, Hickory, Salisbury, Statesville, and Mooresville, North Carolina.