Don't let a big job overwhelm you. Come to us at Eagle Rentals for the machine rentals you need to take on any job.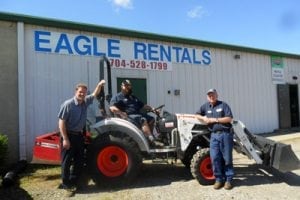 Have you ever had a big task ahead of you that felt overwhelming? This is a common feeling when working on home improvement or yardwork projects. Whether your project involves heavy lifting, intensive labor, or working high above the ground, chances are there is a machine that can make your task more doable. Here at Eagle Rentals, we want to help you with your next project in Wilmington, North Carolina by providing you with the proper machine rentals to make the work faster and easier.
At Eagle Rentals, we understand that there are many tasks people can complete themselves if they just have the right equipment. However, it isn't practical for most people to own and maintain all the heavy machinery you may need to complete certain projects. When you come to us at Eagle Rentals, we can help you figure out the best machinery for your job and make sure you understand how to operate it. Our aim is to be your problem solver for completing difficult tasks with our machine rentals and to provide any other equipment rentals you may need for your project.
Here at Eagle Rentals, you can be certain that any machine you rent from us will have been thoroughly tested, inspected, and serviced just before you rent it. We want to be certain that our equipment operates effectively in order to assist you with your tasks. With a knowledgeable staff and twenty-five years of experience, we have the inventory and understanding you need to make your next job doable. To learn more about our machine rentals contact us today. We look forward to assisting you with your next project.
---
At Eagle Rentals, we offer affordable machine rentals to residents of Mocksville, Troutman, Wilmington, Denver, Cornelius, Hickory, Salisbury, Statesville, and Mooresville, North Carolina.