Our machine rentals in Mocksville can be used for either your indoor or outdoor projects.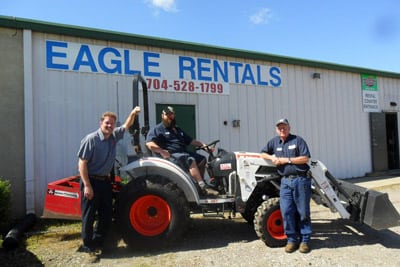 When you are the DIY champion in Mocksville, North Carolina, you know that every project comes with its own set of tools necessary to do a high-quality, stunning job.  You don't want to spend a lot of money on purchasing every single tool for every single project, and you probably don't even have the space to store all of the different tools.  This means that you need a solution that will allow you to maintain your title of champion in the DIY department, while saving you time and money.  What we're suggesting is that you look into machine rentals for your various DIY projects.
Whether you need a manlift for helping you reach a high area or an excavator that will allow you to dig down deep, at Eagle Rentals, we can supply you with both and any other machine rentals you may need.  Our machine rentals can be used for either your indoor or outdoor projects in Mocksville.  As you try to determine which machine rentals will be best for making your task quick and professional, you may have questions that arise.  When these questions come up, turn to our certified technicians.  We can assist you in finding the equipment that will be ideal for meeting your needs.  As a locally owned and operated company, you can rely on us to provide you with first-rate service
When you want to be the best at DIY projects in Mocksville, come to us.  We have all of the machine rentals that will allow you to defend your title long into the future.
---
At Eagle Rentals, we offer affordable machine rentals to residents of Mocksville, Troutman, Wilmington, Denver, Cornelius, Hickory, Salisbury, Statesville, and Mooresville, North Carolina.