We have all of the machine rentals you'll need for your project in Troutman, NC.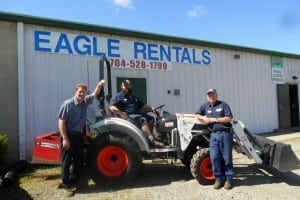 No matter the size of the job, the right tool makes everything easier. Not all tools are created equal, and for certain jobs, the right tool can be too expensive to own or store for its limited usefulness. For all of us who don't have an endless tool shed or garage, machine rentals make the most sense for specific jobs.
There are as many custom tools and machine rentals available as there are specific jobs for their use. Generators can give you power and lighting where it might be otherwise unavailable.  Special saws can help you cut through not only wood, but also tile, masonry, and concrete for a bathroom or patio renovation. Various types of compact loaders, chippers, edgers and aerators can make yardwork or a full landscaping overhaul quick and easy, not to mention special equipment to grind down stumps or edge flower beds. Moving materials has never been easier than with a backhoe, excavator, trencher, or the extremely versatile Bobcat loader.  Bobcat loaders in particular can be connected to a wide variety of attachments, increasing their versatility and making any project a breeze, large or small.
At Eagle Rentals, we have all of the machine rentals you'll need for your project, and our expertise will make sure you have the right tool for the size and duration of your job. We're locally owned and operated, and our 20 years in business has proven to us that our best business is getting you the right tools, the right knowledge, and the best customer experience possible.
---
At Eagle Rentals, we offer affordable machine rentals to residents of Mocksville, Troutman, Wilmington, Denver, Cornelius, Statesville, and Mooresville, North Carolina.