We offer an impressive selection of machinery to rent.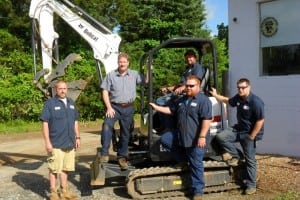 At Eagle Rentals, we are proud to offer a wide selection of machine rentals to our valued customers in the Mooresville, North Carolina area. Some of the machinery we have for rent includes backhoes, bobcat loaders, air tools, aerial lifts, concrete tools, floor care machines, generators, excavators, and many, many more. We are confident that when you rent machinery from us, you'll find exactly what you're looking for.
Our Advantage
We realize that when you turn to us for machine rentals, you may not know exactly how to operate the tool you need. Our professional, friendly team is always ready to explain to you how to use machinery before you rent it, so you don't have any problems getting your project done. Doing this is simply one of the ways we show you that we genuinely care about your complete satisfaction.
Our Rental Process
After you decide to rent machinery from us, there's a specific process we follow to make sure you get the machine rentals you need when you need them. Here's a brief introduction to what that process looks like:
View our collection of machine rentals online to see if we have what you're looking for. You can also call us to find out more about our inventory. Calling us directly is a great idea because we may have just gotten in new items that could work for your project!
Determine how long you'll need the machine rental for. The type of machinery you need and the length of time you'll need it for will impact your daily rate.
Give us a call or stop by our location to reserve your rental. We'll let you know what we have available and formalize your reservation. You can then come back to pick up your rental on the day your rental starts. We'll make sure the machine rentals you get from us are in top condition, so you don't have a problem with them during your project.
Return your machine rentals to us at the end of your reservation period. When you bring them by, let us know how they worked out for you and if there's anything else we can help you with.
You can rent multiple pieces of machinery or tools at one time from us – just let us know what you need when you make your reservation. Ultimately, our goal is to make renting machinery a quick, easy, and cost-effective process!
Contact Us Today
If you would like to know more about the machine rentals we have available or how our rental process works, please feel free to reach out to us at Eagle Rentals. Whether you're a first-time do-it-yourselfer or a seasoned construction professional, we look forward to hearing from and working with you.
---
At Eagle Rentals, we offer affordable machine rentals to residents of Mocksville, Troutman, Wilmington, Denver, Cornelius, Hickory, Salisbury, Statesville, and Mooresville, North Carolina.