Reach even the most complex of heights with the right articulating boom.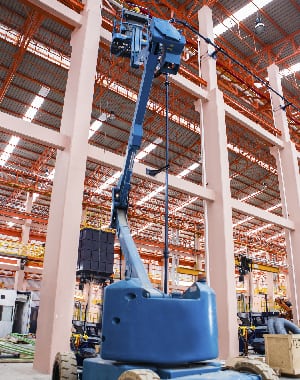 There are so many jobs out there that can be done more effectively and more efficiently with the help of machinery, particularly articulating booms. When you need to reach something very high or lift a lot of heavy equipment, ladders are likely out of the question and that is where the use of a boom can be very beneficial. Here at Eagle Rentals, we offer articulating booms and many other different types of lifts to ensure that you and your equipment can get where you need to be.
An articulating boom is different from a standard lift in that it does not just raise itself up, but once raised it can also move back and forth and side to side. This is incredibly helpful for someone who needs to work on a larger plane as well as height. An articulating boom is a safer option for certain jobs because it enables the operator to work at a safe distance without any reaching or stretching.
There are many different projects that can benefit from the use of an articulating boom, including things like trimming trees, pruning, landscaping, roofing projects, gutter cleaning, painting, stone or brick work, and so much more! If you have to do any type of project that requires height, we here at Eagle Rentals can help you determine if an articulating boom or other lift would be ideal for your needs.
In the Mooresville, North Carolina area, our team here at Eagle Rentals is able to help you find the right type and size of articulating boom to meet your needs. Give us a call today to find out more!
---
At Eagle Rentals, we offer affordable articulating boom to residents of Mocksville, Troutman, Wilmington, Denver, Cornelius, Hickory, Salisbury, Statesville, and Mooresville, North Carolina.