Get high in the air and have the flexibility to move from side to side with an articulating boom.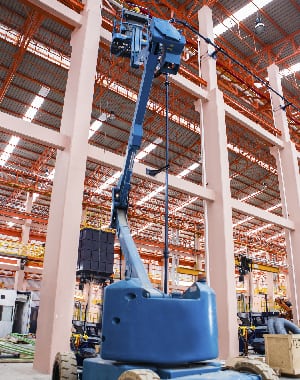 Having a large project to complete usually necessitates large machinery to get it done! If your project involves the need to get to high places, there are many options that we have here at Eagle Rentals that can get the job done. Just one of these pieces of equipment is the articulating boom, which allows you not only the height that you need, but the freedom to move from side to side as well. This ability not only increases the usability of the machine, but also safety as well since people don't have to stretch themselves or lean over unsafely in order to reach the area they're trying to reach.
There are many uses for articulating booms in the Mocksville, North Carolina area, not all of them concerning building or construction. You can use an articulating boom to replace windows on a multiple story home, work on the roof after a windstorm, trim large trees or paint higher levels of a property. If you are trying to reach something up high for any reason, our team here at Eagle Rentals can help you find the best articulating boom or other piece of equipment that will serve you best in your upcoming project.
At Eagle Rentals, we have been working with customers and solving their problems with our equipment rentals for over 20 years now, and we look forward to many more years in business of solving your equipment rental needs. To learn more about an articulating boom or other equipment rentals, come and see us today.
---
At Eagle Rentals, we offer affordable articulating boom to residents of Mocksville, Troutman, Wilmington, Denver, Cornelius, Hickory, Salisbury, Statesville, and Mooresville, North Carolina.