An articulating boom can help you with all sorts of projects that involve heights.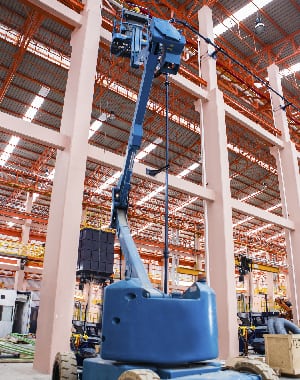 When you have a project at home that requires reaching areas that are high off the ground, one of the factors that many people don't take into consideration is the risk of heights. Whether you are working on tree-trimming, roofing or painting, the risk of falling from these heights is always present along with the risk of injury. Here at Eagle Rentals, one of the things that we want to do is help ensure that your projects get done efficiently, but also safely. If you have a project in the Denver, North Carolina area that needs to be done up high, but also movement from side to side at that height, one of the best things you can rent is an articulating boom.
An articulating boom is able to get you to the necessary heights while also giving you the ability to move back and forth. Articulating booms are used all the time commercially and professionally, but they can also be used with smaller projects around your home. Because an individual is lifted into the air with a basket rather than being precariously perched on a ladder, it is much easier for someone to complete their tasks up high safely and without risk of fall, especially in those instances when moving from side to side, such as one does when painting a house or maneuvering around a tree that needs serious trimming.
At Eagle Rentals, we are your source for all boom lifts, including articulating booms. Come and see us today if you have questions about articulating booms and their applications for your use.
---
At Eagle Rentals, we offer affordable articulating boom to residents of Mocksville, Troutman, Wilmington, Denver, Cornelius, Hickory, Salisbury, Statesville, and Mooresville, North Carolina.