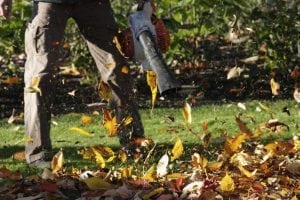 Have you ever thought about how leaf blowers can be used for much more than just clearing leaves in the fall? Here are a few ways you can use leaf blowers in all four seasons:
Winter- What if you could clean your windshield quickly and efficiently after an overnight snowstorm? Leaf blowers just might be your best bet! While an electric or corded leaf blower is powerful enough to clear off a dusting, a gas powered leaf blower might actually blow away snow and help it melt more quickly. No more excuses for running late to work!
Spring- Spring storms can cause a lot of debris to pile up in your yard. Dead leaves, sticks, twigs, and pine needles can all be unsightly and a recipe for disaster. Let your green grass show and your driveway be free of the clutter by using a leaf blower. It's like spring cleaning for the outdoors!
Summer- If you are proud of your lush lawn but you hate it when your grass clippings turn brown and cover the healthy grass below, leaf blowers are the perfect solution for clearing up the mess. The leftover grass from each cutting can be blown to the nearest compost pile, used as part of your mulching process, or simply blown to a central location for easy bagging.
Fall- While we love the fall season because of its unique beauty, but the truth is that falling leaves pose a risk. Not only are they slippery when wet and create the opportunity for falls, but they can also get tracked through your home and pile up in unwanted places. Leaf blowers were created for this season, and they make the cleanup process as easy as the fall breeze.
If you're not quite ready to make a purchase, but you'd love to see what leaf blowers can do, you can always come see us at Eagle Rentals to enjoy the benefits without the commitment.