If you're like most people, you probably associate leaf blowers with, well, leaves. Although leaf blowers are most often used in the autumn, you can get plenty of use out of leaf blowers all year round.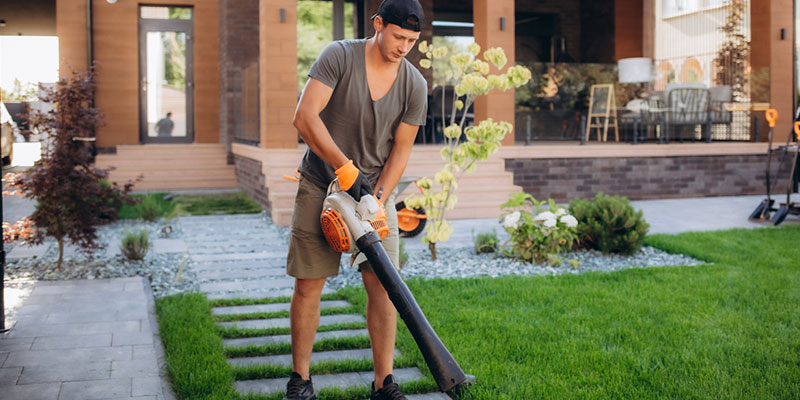 Here's a quick outline of some of the seasonal lawn tasks that leaf blowers can help you with:
Spring: Once the snow starts to melt away, it typically leaves behind quite a bit of debris all over your lawn. Leaf blowers can make quick work of any detritus like leaves, twigs, and dead plant matter, leaving you with a clean lawn that's ready for new growth.
Summer: As things warm up, you're going to have to mow your lawn regularly to keep it looking inviting and lush. If you don't have a mower with a grass clippings bag, a leaf blower is an essential tool for getting clippings off your lawn. Leaf blowers are far faster than hand raking, and they make it easy to pile clippings wherever you want them, whether it's into a composting area or a garbage bin.
Fall: When the leaves begin to fall, leaf blowers become essential for keeping your lawn clear. Clearing away leaves not only makes your lawn look better kept but also helps prevent lawn diseases like mold and fungal growth, which thrive in damp, dark conditions like under leaves as they decompose.
Winter: Did you know that some leaf blowers come with special attachments that allow them to clear away light snowfall from your driveway and walkways? While a leaf blower isn't a substitute for a heavy-duty snow plow, it can easily take care of minor snow maintenance.
If you're now convinced of the year-round utility of leaf blowers, but still don't want to store one at your home, we at Eagle Rentals have the perfect solution. Reach out today to learn more about our leaf blower rental options and see how easy we make it to keep your lawn looking great all year round.