Generator Rentals, Troutman, NC
We provide generator rentals for a low daily rate in the Troutman, NC area.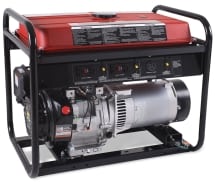 If you need a generator, but don't necessarily want to purchase one, turn to us at Eagle Rentals. We provide generator rentals in the Troutman, North Carolina area for a low and affordable daily rate.
If you're interested in one of our generator rentals, we make the actual rental process quick and easy so that none of your time is wasted. When you come in to pick up the rental, all you need to bring with you is a valid driver's license. If you are a first-time renter, you will need to pay with a debit or credit card upon pickup.
At Eagle Rentals, we realize that when you're working on project, it's hard to know exactly what type of equipment you'll need and when you'll need it. For this reason, if you ever need a generator, you don't have to make a reservation. However, we do recommend giving us a call before coming in to make sure we have the right generator for your needs.
We have been an active part of our local community since 1995 and realize that we wouldn't be where we are today without our customers. For this reason, when you turn to us, we'll do everything we can to exceed your expectations.
If you want to know more about our generator rentals and why renting our equipment is a good idea, contact us at Eagle Rentals today. We are eager to earn your business and would be more than happy to answer any questions you might have.
---
At Eagle Rentals, we offer affordable generator rentals to residents of Mocksville, Troutman, Wilmington, Denver, Cornelius, Hickory, Salisbury, Statesville, and Mooresville, North Carolina.