Generator Rentals, Mooresville, NC
Our generator rentals are available to both construction companies and individuals in the Mooresville, NC.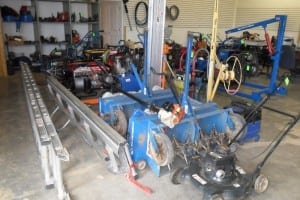 Most construction sites don't have power until late in the building process, after electricians have begun wiring the property. This becomes a problem when the management team and other members of the construction team need to use computers and other electrical equipment to accomplish their tasks. Many construction sites rely on generators to provide that necessary power, but as soon as the electricity is flowing, they no longer need that item. Generators are fairly large, especially when they produce a lot of power, so storing and maintaining them isn't an ideal solution either.
At Eagle Rentals, we provide generator rentals for our customers in and around the Mooresville, North Carolina area. We have been in business for over two decades and continue to offer the same excellent service to each of our customers. Our team members are problem solvers who can help make sure that you rent the right pieces of equipment for the task at hand.
Our generator rentals aren't just available to construction companies. We rent all kinds of items to individuals frequently, since many people only need items for a few small jobs. If you are looking for any type of tool or piece of equipment, check with us before you buy. We want to help our customers save money and reduce the need for buying a lot of large tools and items that will be difficult to store. Our shop is open from 7:30 a.m. until 5:00 p.m. on Monday through Friday. We are also open from 7:30 a.m. until 12:00 p.m. on Saturdays. Contact us today for more information on our generator rentals.
---
At Eagle Rentals, we offer affordable generator rentals to residents of Mocksville, Troutman, Wilmington, Denver, Cornelius, Hickory, Salisbury, Statesville, and Mooresville, North Carolina.