Manlift Rentals, Cornelius, NC
Make any hard-to-reach construction jobs more manageable with our manlift rentals.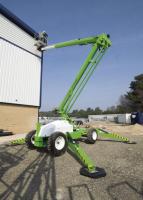 When you want to do some DIY construction in hard-to-reach places, like trees, roofs, higher windows, or otherwise, you could try to use a taller ladder or do some climbing to get the job done, but that might not always be the safest solution. We at Eagle Rentals are more than happy to provide you with a solution that will be safer, more convenient, and affordable. If you are in the Cornelius, North Carolina area, you can count on us to make your hard-to-reach jobs more manageable with our manlift rentals.
We offer several different manlift rentals to suit your needs, including different sizes and self-drive or towable manlifts. When you come to us for your manlift, our trained technicians can direct you to the right manlift for your needs and give you basic instructions on how to handle the equipment safely and properly. We can also go over the necessary safety precautions when using our manlift rentals to ensure that you get safe and effective use out of it for your project.
We have been in business since 1995 and take our rental services very seriously. We always inspect, test, and service all our equipment prior to your renting to ensure we are only renting out the equipment of the best possible quality and condition. We will also always take the time to answer any questions or concerns you may have about the rental equipment. If you need more equipment than just the manlift rental, you can rely on us for that too. We offer all kinds of construction equipment, lawn care equipment, flooring equipment, lighting equipment, generators, and more.
Make any hard-to-reach construction jobs you have in mind more manageable with our manlift rentals. Give us a call to start renting today.
---
At Eagle Rentals, we offer affordable manlift rentals to residents of Mocksville, Troutman, Wilmington, Denver, Cornelius, Hickory, Salisbury, Statesville, and Mooresville, North Carolina.