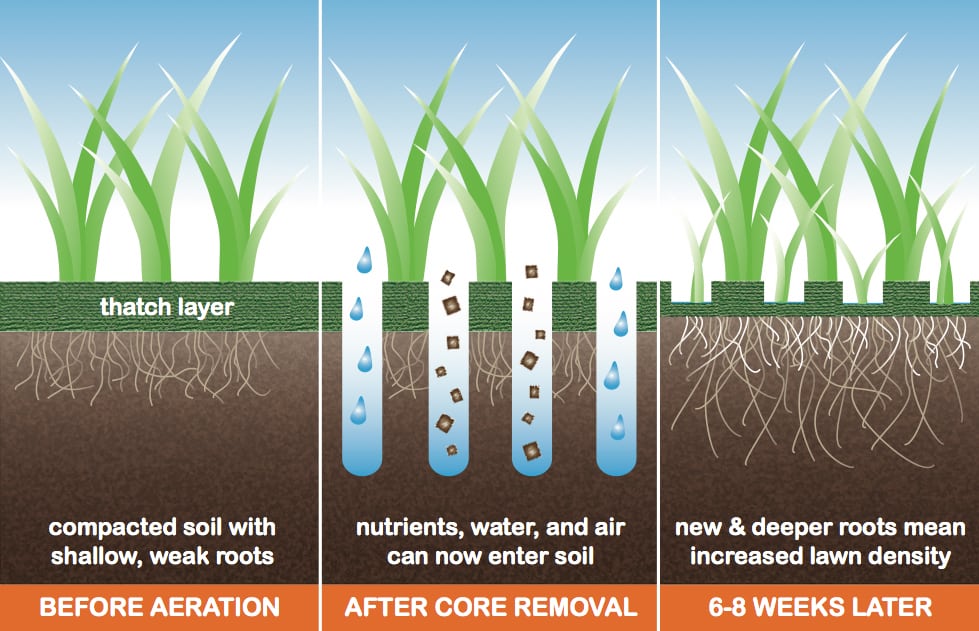 Lawn aeration is an important aspect of maintenance, as it helps your lawn stay more lush and green. The function of an aerator is to make small holes that allow air to circulate around the roots and the bottom of each blade of grass. This results in healthier grass that can absorb water and nutrients much better.
The easiest way to aerate your lawn is to use an aerator. If you don't have an aerator, you'll need to use a fork tool to dig holes into the lawn that measure approximately 3 inches deep. Wiggle the fork while it is in the ground to loosen the soil. You can use the fork once per 4-inch space on the lawn. Next, use a hollow tiner to pull small pieces of the soil out, leaving holes behind that provide improved air flow.
Obviously, the process is made much easier with aerators, as they can do both of these steps at once. Instead of measuring and aerating the lawn manually, you can save time and a lot of back-breaking work by using an aerator to poke holes and draw out soil pieces—all you have to do is drive it across the lawn like a mower.
After you use the aerator, an important step of the process is to place compost across the area that you aerated. You can leave the soil cores on the lawn to decompose on their own, or you can rake them and dispose of them. After applying compost, you can use fertilizer and grass seeds to thicken the grass and improve the health of your lawn.
There's no need to buy an aerator for your lawn—simply visit us at Eagle Rentals in Statesville & Troutman, NC to learn more about our aerator rentals.