Pressure Washer Rentals, Troutman, NC
We have many different pressure washer rentals available for use in the Troutman, NC area.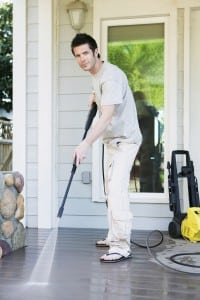 Pressure washers are an excellent way to perform a variety of tasks in and around your home, especially when cleaning siding or preparing certain types of surfaces for paint or other treatment. As the need for a pressure washer is not very frequent for most people, pressure washer rentals can make sure you have the power and pressure when you need it without the cost and hassle of owning a device you use infrequently. Additionally, using one of our pressure washer rentals ensures that the device has been inspected, tested, and serviced before use so that it doesn't malfunction when you're trying to work.
The pressure washer you need depends on the type of job you're going to perform. Many of our pressure washer rentals vary in terms of the PSI they deliver, as well as the gallons per minute they go through. Additionally, it's essential that you rent a pressure washer with the right tip or nozzle to ensure that the surface gets cleaned without any damage.
At Eagle Rentals, we've served Troutman, North Carolina and the surrounding areas for 20 years, and in that time, we've learned what our customers commonly need. We've also refined our ability to listen to the goals of our clients and help them identify the best tool for the job they need to get done. If you're interested in using one of our pressure washer rentals during an upcoming project, please don't hesitate to contact us for more information.
---
At Eagle Rentals, we offer affordable pressure washer rentals to residents of Mocksville, Troutman, Wilmington, Denver, Cornelius, Hickory, Salisbury, Statesville, and Mooresville, North Carolina.