Pressure Washer Rentals, Denver, NC
Pressure washer rentals can make your job much easier.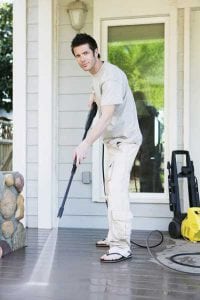 Whether you need to wash off the dirty siding or stucco on your home, or if your concrete patio or driveway needs a good wash, pressure washer rentals from us at Eagle Rentals will help you get the job done right. Pressure washers will help you quickly remover dirt, dust, and grime without scrubbing.  All you have to do it stand back and spray — the pressure washer will do the rest.
At Eagle Rentals, we inspect all of our pressure washer rentals on a regular basis to make sure they are working properly and that we are renting you a high-quality piece of equipment. We have a lot of different sizes of pressure washers to rent, so we have got you covered no matter what size of job you have.  We will also make sure you know how to operate the pressure washer before we send you on your way with it so that you can feel completely comfortable using it.
You might think that it would be better for you to just buy a new pressure washer. Renting will actually save you money in the long run because you will have to rent a pressure washer several times to make up for the cost of purchasing one.  You also probably will not use it on a regular basis, so it will just sit unused in a garage or shed.  These machines also require tune ups and maintenance that will cost you money.  When you rent, you get pressure washers that are well maintained and that are in excellent condition.
If you are interested in more information about pressure washer rentals and are in the Denver, North Carolina area, contact us today at Eagle Rentals. Our friendly and knowledgeable staff will help answer all of your questions and will find the perfect pressure washer for any job you are working on.
---
At Eagle Rentals, we offer affordable pressure washer rentals to residents of Mocksville, Troutman, Wilmington, Denver, Cornelius, Hickory, Salisbury, Statesville, and Mooresville, North Carolina.