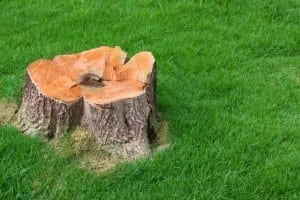 Have you been dreaming of a new landscape to create the perfect look for your home but are worried about how to remove those stubborn old tree stumps?  Perhaps you've already tried everything from shovels to pickaxes with no success and are hesitant to try again.  Believe it or not, we have a solution for you.  If you rent a stump grinder, you can create the landscape you desire without requiring back-breaking work.  Choosing this option also saves you money, since it ends up costing you considerably less than it would have cost you to hire a company to do the same job.  If you have the time, the strength and the willpower, why not give it a try?
If the thought of creating your dream landscape with little effort is appealing to you, the following steps will help you reach your goal:
Assess the number of tree stumps you need to remove as well as their sizes.
Come see us at Eagle Rentals and pick up a high-quality stump grinder.
Take the stump grinder home, and put on your safety equipment such as gloves, goggles and ear plugs.
Cut the stump down as short as you can before you begin to use the stump grinder.
Position the stump grinder over the first tree stump, just near to the edge, turn it on and begin moving it from side to side, continuing to move forward as you see the wood chips fly.
Continue until the stump is removed and you have a small hole in the ground where the stump used to be.  It is recommended that the hole be at least 4 inches deep.
Once you've removed the first stump, continue on to each additional stump, repeating the same process until no more blemishes to your landscape remain.  After removing all of the stumps, you can start on the next steps of landscaping your yard.
Creating your ideal landscape is a process that takes brains, time and gusto to bring it about.  At Eagle Rentals, we provide you with the right tools for every step of the job.  To check out our complete line of rentals for all of your home improvement jobs, contact us today.