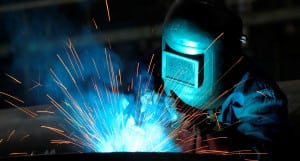 There are a number of different projects you could accomplish at home with your own welder. Before beginning any project like this, it's vitally important to make sure you have taken the proper safety steps before the first weld.
Your work area should be clear of potentially flammable materials, clean, and well ventilated. Many beginning welders find that a garage makes an excellent part-time welding shop.
Proper safety equipment is essential. Heavy gloves and a welding mask are required to protect your eyes and hands, and a protective coverall or apron will shield against the heat and light from the welder.
Draw out your project. Detailed plans on hand will simplify and shorten your project time, as well as reduce waste. There are multiple places to find schematics and instructions for just about every job, as well as options that will help you personalize the project and make it your own.
Set aside materials and mark where any cuts or drill marks should be made.
At Eagle Rentals, we're proud to be your hometown rental service. We only rent tools and equipment, and our highly qualified staff and technicians can assist you in selecting your equipment needs. We thoroughly inspect, test, and service every item prior to each rental. Our job is to be your problem solvers – to find the tool or machine to make your project faster and easier! Contact us today to schedule your welder rental!
Related Rental Equipment Posts: