Trencher Rentals, Mooresville, NC
Trencher rentals make your digging project in Mooresville affordable and easy.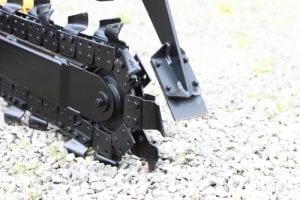 When you have a project that requires trenches and digging up significant ground, it is important to have the right tools to accomplish your goal. The last thing you want to do is take days shoveling out the proper area for your pipes, cables, or drainage system.  At Eagle Rentals, we offer trencher rentals for any size job, so you can finish your project quickly and easily. When you need equipment for a job and need help problem solving, we are your go-to team for the right equipment and the answers you need.
There are three main benefits to trencher rentals with us at Eagle Rentals:
No Maintenance – Before each of our trencher rentals, our qualified technicians inspect, test and service each item to ensure it is working properly, so you never have to worry your equipment is going to give up during the job.
Test New Equipment – If a shovel and a rake don't sound like the most efficient way to achieve you trench, our trencher rentals give you the opportunity to test new equipment and keep your job on schedule.
Responsive Service – If you encounter a problem and need assistance, or can't decide which equipment will meet your needs, we are experienced problem-solvers who can help you determine the best course of action.
Trencher rentals make your digging project in Mooresville, North Carolina affordable and easy because you can use the equipment as long as you need it before returning it to us for an affordable price. At Eagle Rentals, we don't ask for surcharges, environmental fees, or damage waivers, so you can get the reliable tools you need within your budget.
Our family owned and operated business has been helping customers with their equipment needs since 1995. With our experience and expertise, you are sure to have a good experience with us. Call today to get started.
---
At Eagle Rentals, we offer affordable trencher rentals to residents of Mocksville, Troutman, Wilmington, Denver, Cornelius, Statesville, and Mooresville, North Carolina.