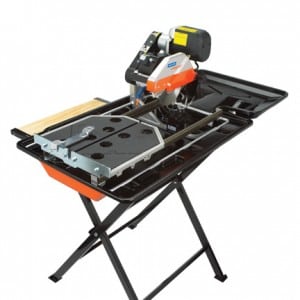 Much of the cost of tile flooring is in the labor for removal of the old tile floor and installation of the new one. That's why many people are opting to purchase the tile and do the labor themselves. The challenge in doing so then becomes how to manage the cost of the tools that will be needed. While many of the tools needed are inexpensive, tile saws are not used often enough to warrant purchasing one. Luckily there is an alternative – renting tile saws in the size needed for the job.
There are two main sizes of tile saws – 7" tile saws can cut tiles up to 14" across, and 10" tile saws can cut tiles up to 24" across. The best type to get is one that works with a stand. Installing tile entails quite a bit of time spent on your knees, so reducing this time by being able to stand while cutting tiles will be appreciated. Installing tile by beginning in the center of a room and working outward or choosing to put in intricate designs always calls for lots of tile cutting. Using diamond blade tile saws is the best way to get professional results.
For large jobs, power mortar mixers can be helpful, as they can quickly and efficiently mix two bags of mortar, which can be tiring when done by hand. There are also a number of tools that can make removal of old tile easier, so be sure to discuss the options available with one of our employees at Eagle Rentals in Statesville & Troutman, North Carolina.