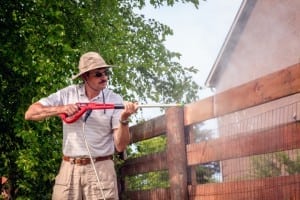 Now that summer is half over, you know that it is time to get a move on those DIY projects that have been on your list.  If you have painting the exterior of your home as one of those tasks, you may be wondering if perhaps you can luck out and somehow magically avoid that task.  You probably feel this way due to the fact that painting the exterior of your home is a major undertaking.  If you want to improve the exterior appearance of your home, but aren't sure about a painting job, there is one way that you could possibly get out of the job . . . that is through a pressure washer rental that would clean your home, making it appear new again without requiring the application of new paint.
Pressure washer rentals are a great way to clean the exterior of almost anything you own.  For example, when you rent a pressure washer to clean the exterior of your home, you can then use it to clean the exterior of your car, driveway, patio, gazebo, garden or crafting/hobby area.
So, how exactly do you use a pressure washer?  Basically, there are two types of pressure washers—gas powered and electric powered.  Regardless of the power source, you simply hook up the pressure washer to your garden hose.  The water is then pumped out through a sprayer at a high rate of pressure, which is what does the actual cleaning.
Essentially, pressure washer rentals are a cost-effective way to get your possessions looking beautiful without having to go through the tedious tasks of sanding, painting and refinishing them instead.
If you are ready to explore the possibilities of pressure washer rentals, contact us at Eagle Rentals today.  We can teach you the specifics on how to run the pressure washer you rent.  Additionally, should you end up deciding to do that paint job after all, we have painting equipment for rent.  Let us be the source for all of your equipment rental needs.
Related Rental Equipment Posts: