A skid steer is a versatile machine for moving rock or dirt, loading debris, or smoothing the ground. However, learning to operate one takes some practice on a fairly large area of firm, level ground.
When you choose a skid steer from a rental company, you'll probably find different sizes and manufacturers, with variations between them, but you might want to start with something like this great entry level machine– a Bobcat S175:
Below are the basics of operation: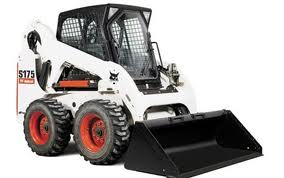 Take the time to read the safety instructions in the operator's manual. Skid steers can turn quickly, tip over, and change direction very suddenly.
Familiarize yourself with the controls. Depending on the make and model, these may vary, but usually there are 2 steering handles – one on each side armrest.
Look for the throttle handle and start the engine. The throttle handle is a flat metal bar with a rubber grip. It's usually located on the console on the right of the right-hand armrest.  There's a slot to slide it backward and forward.
Unlock the controls and move the front attachment, or bucket, up off the ground. Do this by pulling one of the joysticks, or control levers, toward the middle of the machine. Lean the left-hand joystick to the right; usually, this is the stick that lowers and raises the bucket.
Lift the bucket high enough to see clearly what's in front of you, then set in down, then raise again to get a feeling of the movement. Now, scoop and dump to get a feel of the motion.
Drive the skid steer until you feel comfortable with the steering, and then approach a pile of dirt or other material to practice using the bucket.
If you need to rent a skid steer in Statesville NC, contact us at Eagle Rentals. Whatever projects you are undertaking, Eagle Rentals has the needed equipment rentals available to make your job easier and more efficient. Give us a call today!