TM50
TM50 | Trailer Mounted Cherry Picker
With one of the largest working envelopes in its class the TM50 trailer mount delivers maximum reach with stability and control.
Octagonal boom sections provide the TM50 trailer mount strength without compromising on weight and the telescopic upper boom improves accuracy when positioning the platform.
Fully proportional hydraulic outriggers make setting up and levelling the TM50 trailer mount quick and easy even on gradients.
The TM50 trailer mount's outstanding reach makes it ideal for a wide range of applications.
The TM50 trailer mount is also available with a traction drive option that offers a simple, cost effective and safe method for on-site positioning.
For more information regarding the TM50 or any other trailer mount, including the TM42T and TM64, please contact Niftylift Inc.
---
Specification
Platform Height: 49ft 6in
Working outreach: 28ft 6in
Telescopic Upper Boom: Greater accuracy when positioning platform
Hydraulic Outriggers: For quick & easy setup
Fully Proportional Hydraulic Controls: Simple, reliable & easy to maintain
Bi-Energy Available: Optimizing utilization
Traction Drive Option: For improved maneuverability on site
Working Height
56ft
Working Outreach
28ft 6in
Platform Height
49ft 6in
Machine Height
7ft
Machine Length
20ft 4in
Machine Width
5ft 5in
Outrigger Type
Hydraulic
Working Width
14ft 5in
Cage Rotation
Available
Min Weight
4,760lbs
Safe Working Load
500lbs
Cage Size
3ft 7in x 2ft 2in
Power Options
Mains Only
Battery Only
Gas or Diesel Only
Bi-Energy (Engine & Battery)
---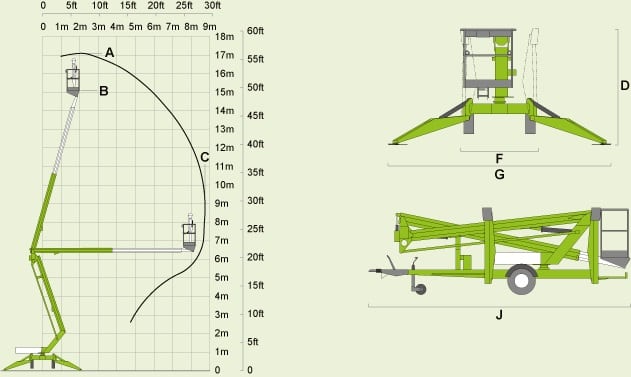 ---