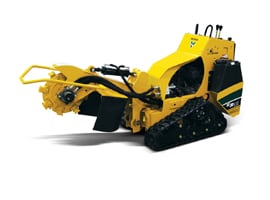 When you've lost a few trees to storms, disease, or old age, you can be left with unsightly stumps where there used to be beauty. One way to give your yard a makeover this spring is by removing those old stumps and planting new trees or creating a new landscape design altogether. Using a stump grinder is an efficient way to get the job done. So how do you go about getting a stump grinder rental and then removing the old stumps?
The first thing to do is to gather your equipment. You will need a stump grinder, mattock (shaped like a pickaxe but with one broad end), shovel, chainsaw, a rake, goggles, ear protection and work gloves. Goggles are very important in order to protect your eyes from wood chips and any other debris that may fly around during stump removal. Once you have your equipment and protective gear, you are ready for step two.
The second thing to do is to clear as many rocks as possible away from the stump. Your shovel and mattock are good tools to use for this step.
Now that you've finished steps one and two, it's time for step three. Use the chainsaw to make the stump level to the ground. You may not be able to get it completely level, but you want it as close to level as possible.
The fourth and final step is to use the stump grinder. Be sure to follow any instructions on the stump grinder as well as any that were given when you rented it. You will need to use the hydraulic lever to raise the stump grinder. Then turn it on and lower it into the stump by 3 inches. Move it side to side using the lever. Be sure to do a little at a time in order to avoid jamming the machine. Once you've finished grinding 4 inches (some people prefer 6 inches, but that choice is up to you) down, move forward and repeat the process. Continue in the same manner until the entire area goes down at least 4 inches below ground-level.
If you're ready to spruce up your yard by removing some tree stumps, check out our stump grinder rentals prices online, or give us a call. At Eagle Rentals, we provide stump grinder rentals to help you get the job done quickly and efficiently.