DR45
DR45 | Static Base Lift Platform
The DeckRider® 45 (DR45) is a static base lift platform developed specifically to help compliance with 'Working at Height' regulations in the steel erection industry.
Its unique low weight design allows the DR45 static base lift platform to be used at an earlier stage of build by working off the prepared steelwork prior to laying the concrete slab.
Upper floor steel assembly can then continue whilst lower levels are freed for rebar work, casting and light traffic. The reliance on waiting for the slab to achieve sufficient load-bearing strength is removed, making steel erection swifter and more efficient.
Lifting points allow the DR45 static base lift platform to be craned into position quickly and easily and the base frame 'sled' has a variable width facility to cater for differing pitches of profiled steelwork.
A 5ft 11in wide cage provides more room for materials and tools and a 150° jib-boom with 100° cage rotation, helps to increase accuracy when positioning the DR45 static base lift platform.
---
Specification
Platform height: 45ft
Working outreach: 31ft
On-board Generator: Providing power for tools & equipment
Fully Proportional Hydraulic Controls: Simple, reliable & easy to maintain
5ft 11in Wide Cage: More room for tools & equipment
Cage Rotation & Jib-Boom: Improved access to applications
Working Height
51ft 6in
Working Outreach
31ft
Platform Height
45ft
Machine Height
7ft 4in
Machine Width
6ft 1in
Machine Length
21ft 4in
Fly-Boom Arc
150°
Min Weight
10,700lbs
Cage Rotation
180°
Safe Working Load
500lbs
Power Options
Kubota 722 – 18Hp
On-board Generator Available
Cage Size
5ft 11in x 2ft 9in
---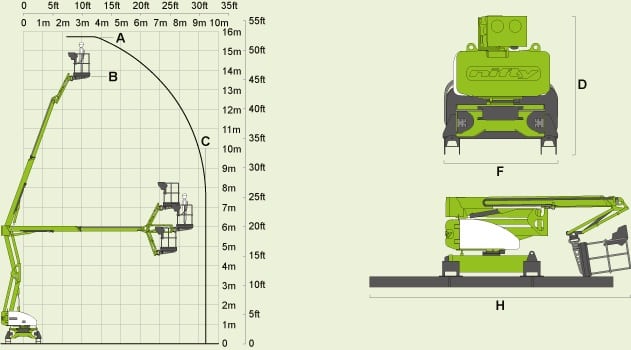 ---